---
participants / exhibitors:
5UHR30.COM - Germany / 89BOOKS - Italy / AREA BOOKS - France / ARTPHILEIN - Switzerland / BEIJING SILVERMINE - THOMAS SAUVIN - France - China / BLOW UP PRESS - Poland / BREADFIELD PRESS - Sweden / BUCHKUNST BERLIN - Germany / CAFÉ LEHMITZ PHOTOBOOKS- Germany / CESURA PUBLISH - Italy / CIAO PRESS - Switzerland / DALPINE - Spain / DEADBEAT CLUB - USA / DEPART POUR L'IMAGE - Italy / DIENACHT - Germany / DISKO BAY - Danemark / DUNES EDITIONS - France / EDICIONES ANÓMALAS - Spain / EDICIONES POSIBLES - Spain / ÉDITIONS IMAGES VEVEY - Switzerland / ÉDITIONS LAMAINDONNE - France / ÉDITIONS LOCO - France / ÉDITIONS SOMETIMES - France - / ÉDITIONS SUR LA CRÊTE - France / FOTOHOF - Austria / FRAGLICH PUBLISHING - Everywhere / GALERIA POSIBILA - Romania / GALERIE ECHO 119 - France / GNOMIC BOOKS - USA / GOST BOOKS - United-Kingdom / GWINZEGAL - France / HALOGENURE - SATURNE - LE MULET - EMULSION - France / HERE PRESS - United-Kingdom / HOMIE HOUSE PRESS - Italy - USA / IMAGELESS STUDIO - China / INNOCENCES - France / JANE & JEREMY - United-Kingdom / JIAZAZHI PRESS - China / JOURNAL - Sweden / KABK - Netherlands / KOMINEK BOOKS - Germany / KULT BOOKS - Sweden / LA MAISON DE Z - France / LECTURIS - Netherlands / LIBRO ARTE - Japan / LITHUANIAN PHOTOBOOKS - Lithuania / MAGIC HOUR PRESS - Canada / MANUAL EDITIONS - United-Kingdom / MICAMERA - Italy / MILLION BOOKS - Germany / MÖREL BOOKS - United-Kingdom / MULTIPRESS - Norway / NAZRAELI PRESS - USA / NOUVEAU PALAIS - France / OBJEKTIV PRESS - Norway / OFFSET PROJECTS - India / OVERLAPSE - United-Kingdom / PAÏEN - France / PALAIS BOOKS - France / PALM* STUDIOS - United-Kingdom / POSTCART - Italy / RED HOOK EDITIONS - USA / SAILORPRESS - Sweden / SELF PUBLISHERS UNITED - Netherlands / SETANTA BOOKS - United-Kingdom / SKINNERBOOX - Italy / SUN SUN - France / SOBOL BOOKS - Danemark / THE ERISKAY CONNECTION - Netherlands / THE INFORMATION FRONT - Ukraine - Canada - United-Kingdom / THE (M) ÉDITIONS - France / TIPI BOOKSHOP - Belgium / TIS BOOKS - USA / VOID - Greece / WITTY BOOKS - Italy / WROCLAW PHOTOBOOK PUBLISHERS - Poland / XYZ - Portugal / ZATARA PRESS - USA / ZEN FOTO - Japan / ZOOPARK PUBLISHING - Russia /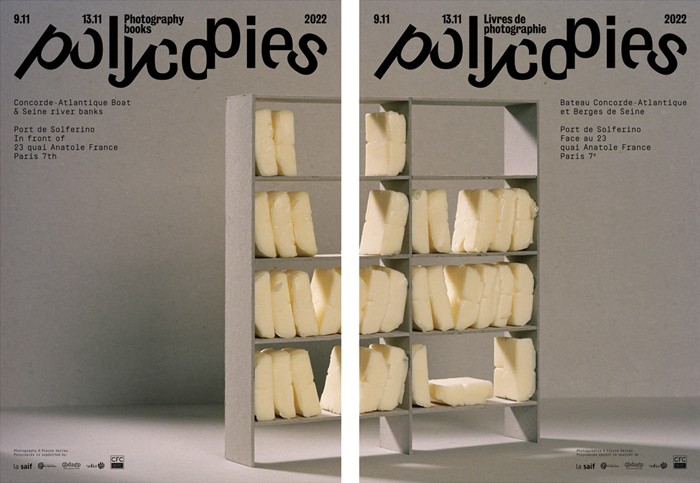 pop-up & guests :
6MOIS - France / ARNAUD BIZALION ÉDITIONS - France / FISHEYE MAGAZINE - France / GUP MAGAZINE - Netherlands / HOT POTATO - Ireland / LIKE LA REVUE - France / MEM - France / REVUE EPIC - France / ZOETROPE ATHENS - Greece / BESIDES PRESS - United-Kingdom / ÉDITIONS D'UNE RIVE À L'AUTRE - France / FK MAGAZINE - Latvia / IIKKI - France / L'ÉDITEUR DU DIMANCHE - France / SWEDISH PHOTO AUTHORS - Sweden / THE LYTLEWODE PRESS - Australia - Sweden / YOGURT EDITIONS - Italy

tables rondes / conferences:


1/ LES POUVOIRS INVISIBLES #1 : PHOTOGRAPHIER ET DOCUMENTER LES LIEUX DE PRIVATION DE LIBERTÉ.


Avec Thierry Chantegret, photographe missionné par le CGLPL (Contrôleur général des lieux de privation de liberté) et le photographe Maxence Rifflet.
2/ LES POUVOIRS INVISIBLES #2 : SUBJECTIVE DOCUMENTARY PHOTOGRAPHY FACING EXCLUSION AND THE DEPRIVED.

A conversation between Thomas Boivin and Raymond Meeks.
Based on work made in Belleville in Paris by Thomas Boivin and in Calais by Raymond Meeks, both photographers discuss the registers and framework allowing their subjective documentary photography to respectfully interact with subjects that for different reasons potentially excluded from society.
3/ THE INFORMATION FRONT : INDEPENDENT DOCUMENTARY PHOTOGRAPHY FROM UKRAINE

With Kateryna Radchenko, Donald Weber (The Information Front), and Sergiy Lebydynskyy (Museum of Kharkiv School of Photography)
For the first time, this independent group of photographers and curators presents work taken in the last year in Ukraine during the Russian invasion.
The slideshow will be accompanied by a discussion of the role of photography in Ukraine's struggle for identity over the past fifty years.
Pour la première fois, ce groupe de photographes indépendants présente des travaux réalisés l'année dernière en Ukraine pendant l'invasion russe. Un diaporama accompagné d'une discussion.
4/ QUE PEUT LA PHOTOGRAPHIE ?

En résonance avec les rencontres des Écrits d'Août à Eymoutiers qui cette année prenaient pour thème « Que peut l'écrit ? ». Les invités seront questionnés sur l'incidence politique des usages de la photographie.
Avec Lundimatin, Louise Moulin (Collectif Plein le Dos), le photographe Jérôme Blin, Yves Drillet (Nouveau Palais)
Sur une proposition des éditions Nouveau Palais.
5/ LES ARCHIVES / THE ARCHIVES #1 : JOHAN VAN DER KEUKEN. REVISITING THE ARCHIVES.

Historian and curator Frits Gierstberg presents a new book about the archives of Johan van der Keuken, published by Lecturis.
6/ LES ARCHIVES / THE ARCHIVES #2 : THE PAST COMING TO LIVE

Une conversation avec Jean-Marie Donat, Emmanuelle Fructus et Thomas Sauvin, autour de la collecte, de l'archivage et l'appropriation de la photographie anonyme.
7/ LES ARCHIVES / THE ARCHIVES #3 : ARTISTS AND ARCHIVES

A conversation between four contemporary artists with recent photobooks published by The Eriskay Connection whose work engages with archives and questions of memory, history, subjectivity, and ambiguity. With artists Marjolein Blom, Marc Schroeder, Oriane Thomasson, and moderator Crystal Bennes.
on a proposal from The Eriskay Connection.

---